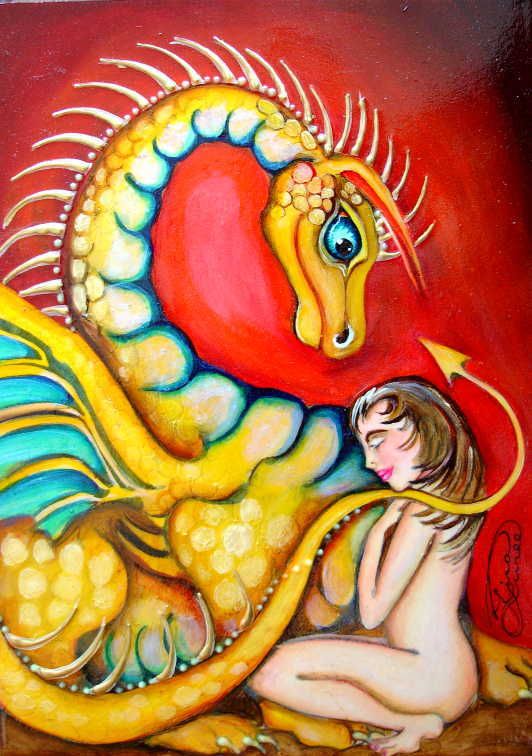 Lisa Luree is The Spirit of ZNE!
"I like to think of myself as a Wish-Weaver. I believe that visual images and symbolism can enable our dreams to come true. They can remind us to stay on course and reach for the stars." - Lisa Luree
Lisa Luree is an American artist, living in Colorado. Lisa is an honorary Founding Member of ZNE, due to her inspirational effort and hard work to make art groups on eBay a valuable resource for artists everywhere.
Lisa is best known for being an extraordinary artist who specializes in creating artwork that reaches an amazing balance between the whimsical and the creepy. She is also known for founding eBay's largest art group to date, Art Card Editions and Originals, also known as ACEO. Chelise Stroud Hery, the founder of ZNE, credits Lisa's ACEO group with being one of the original inspirations behind the creation of ZNE. Lisa is passionate about her art group, and passionate about her art. "Art means different things to different people. I hope that those that view my artwork will feel the magic that connects us all and empowers us to become better beings," Lisa says. As far as ZNE is concerned - Lisa and ACEO have empowered ZNE to be a better group - hooray!
Lisa's ACEO group on eBay can be found here.
Lisa has a blog which can be found here.
ZNE is delighted that Lisa has been a member since the Spring of 2005.
Leave a comment for or about Lisa, and be entered to win The March Gift of Spirit Prize (click on banner at right for more info).